Created in 1958, the Exuma Cays Land and Sea Park was the first of its kind in the world and is famous for it's pristine beauty, outstanding anchorages and breathtaking marine environment. Established and maintained by the Bahamas National Trust, it was the first marine fishery reserve to be established in the Caribbean.
The limestone islands of Exuma have been created through a build-up of calcium carbonate from the rise and fall of sea levels, wind and deposits over thousands of years. The wind and rain that built up the islands over the years have eroded the limestone into pits that surprisingly allow plants to establish roots and thrive. This same erosion has created grottos and caves like Thunderball Grotto, made famous in Hollywood films including "Splash" and "Thunderball." [Text continues after images.]
Photos courtesy of Kip F. Evans, Christine Guinness and Mission Blue.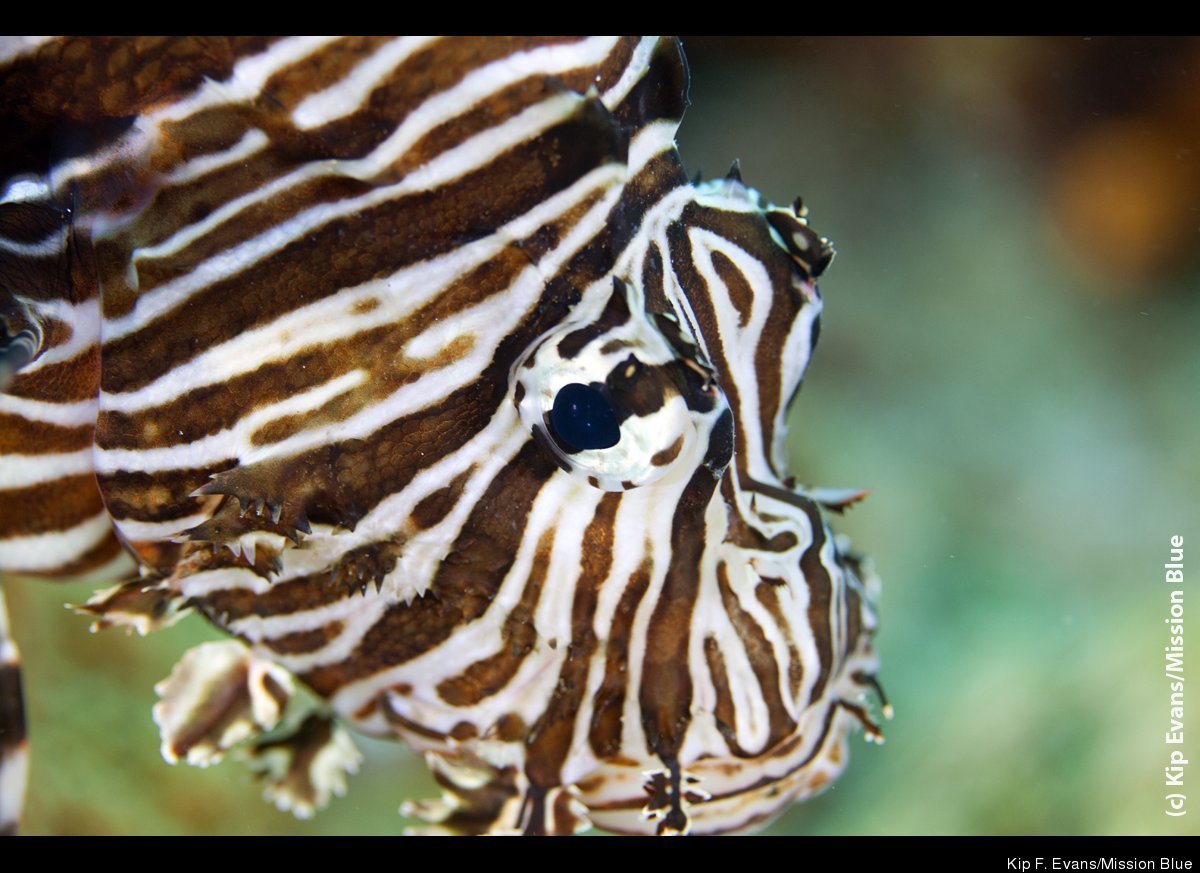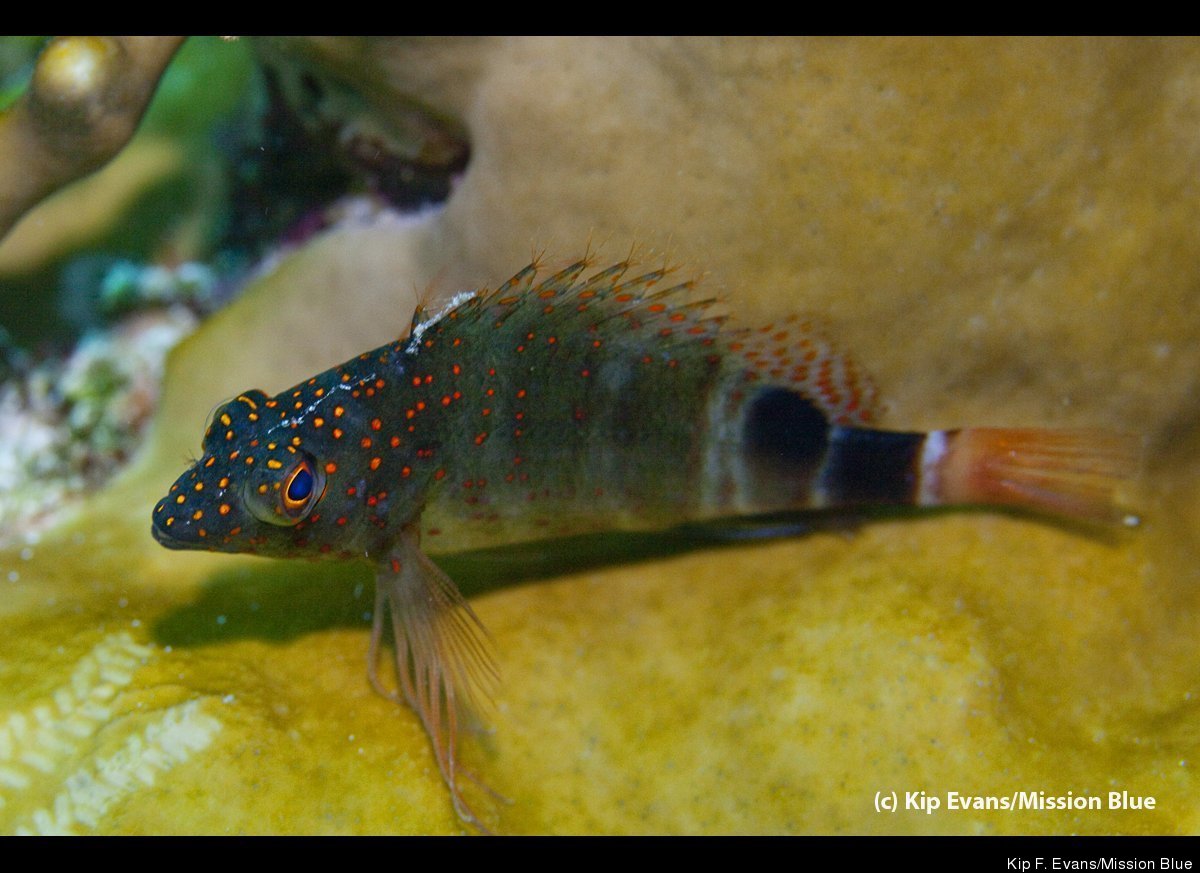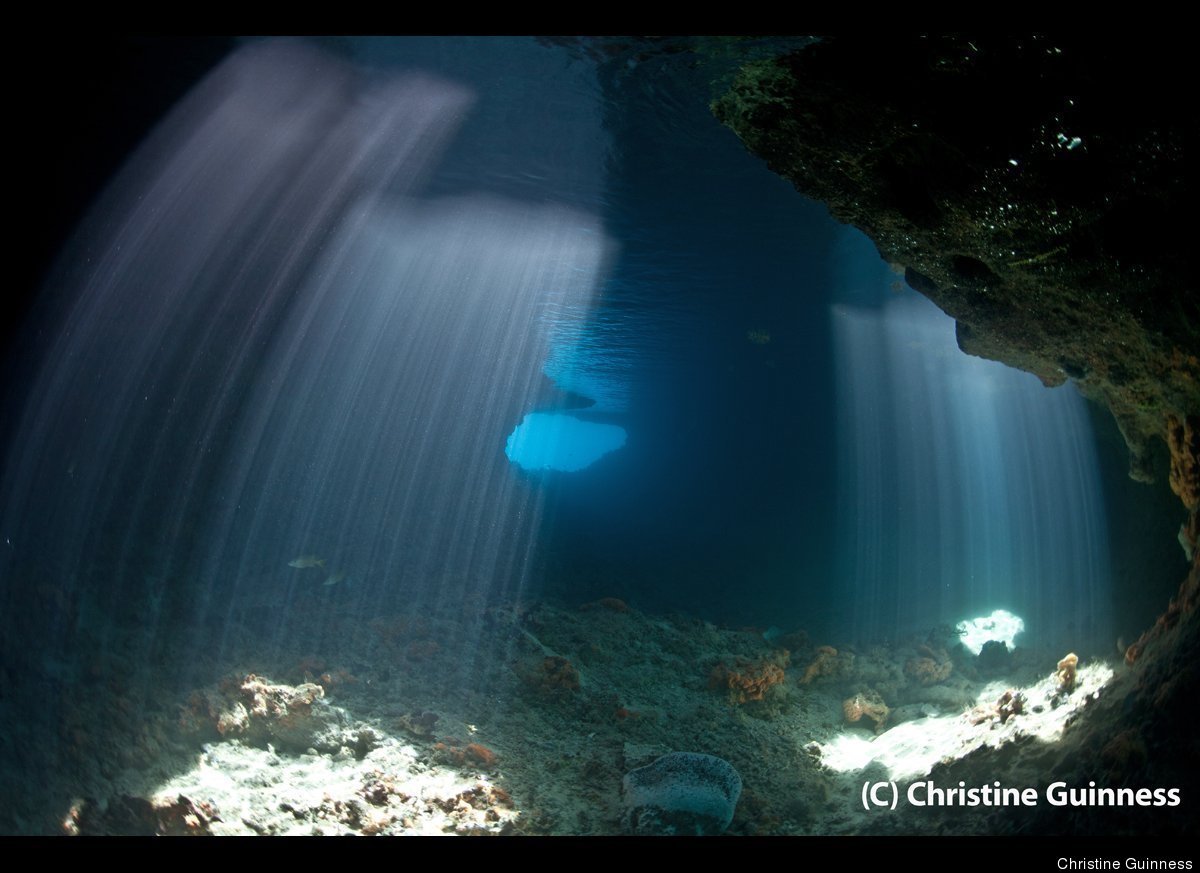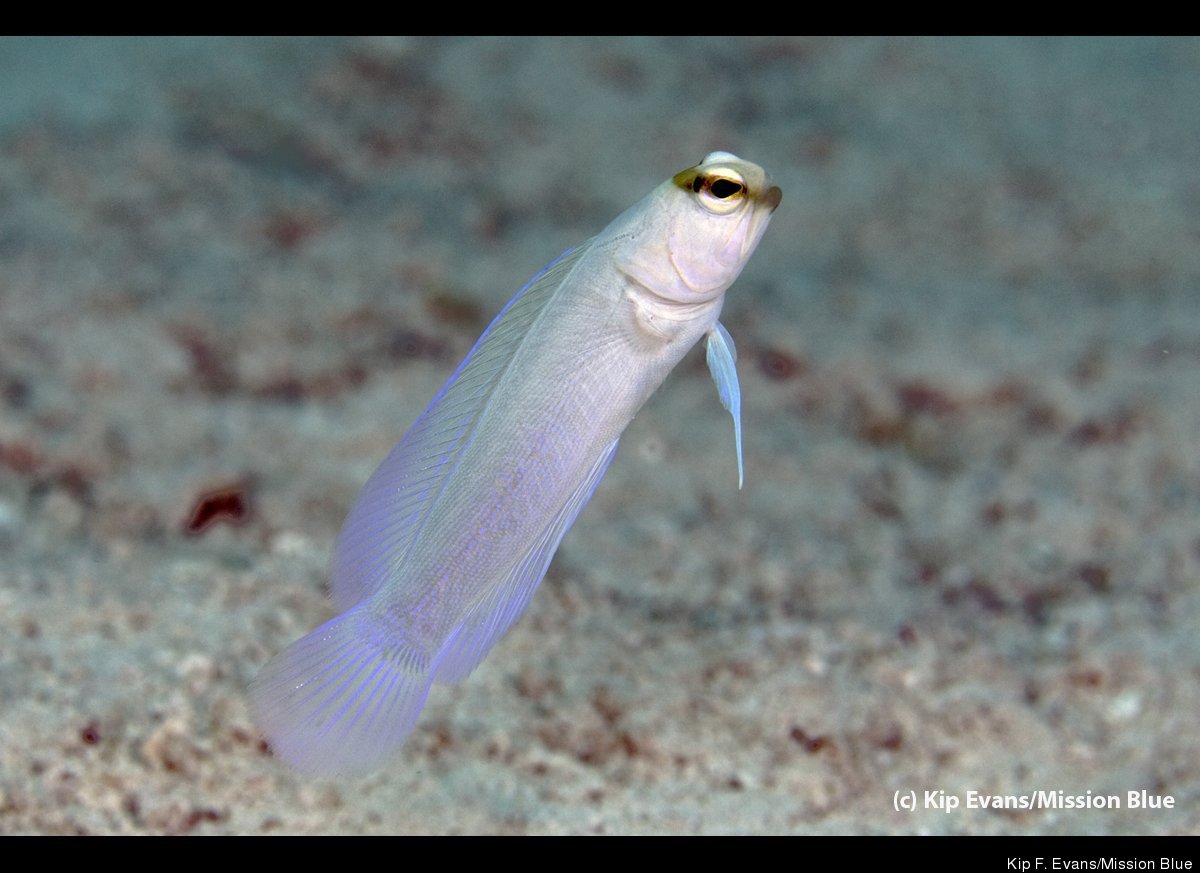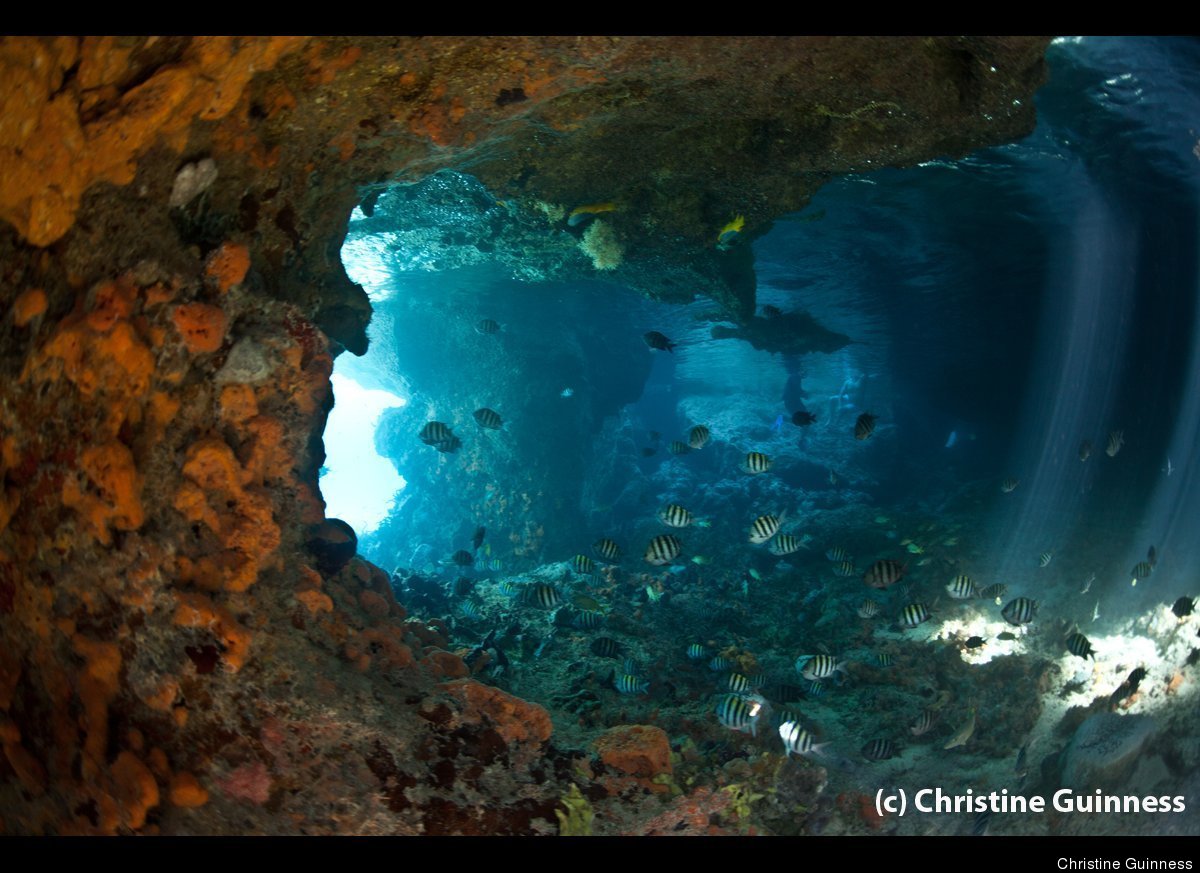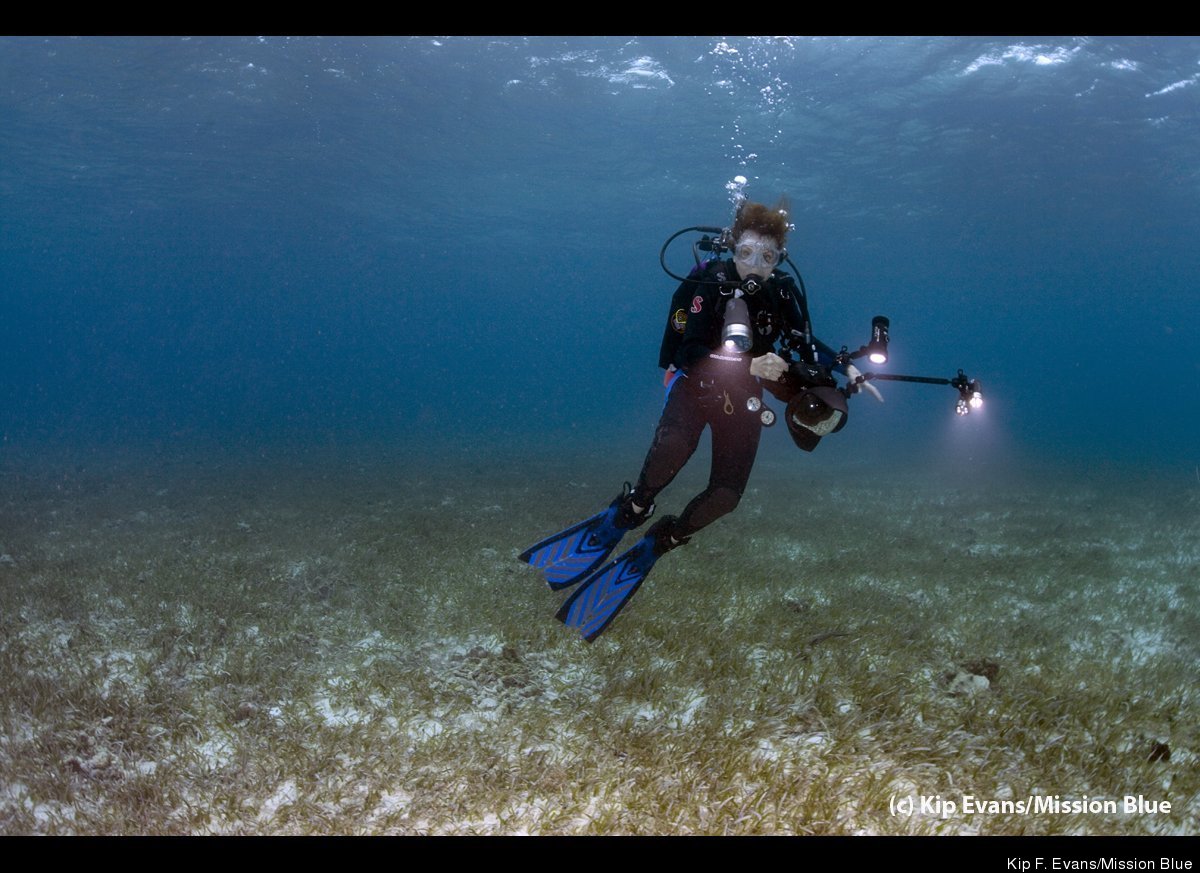 Outside the grotto, the craggy cliffs are home to numerous Black Noddy with their silky white heads and sleek black bodies, eyeing the snorkelers as they pass by close to eye level. Combined with the healthy corals and sponges on the outside wall of the park, this little island is an example of the beauty of two environments. This is after all the Exuma Cays Land and Sea Park.
Over the past two days, a system with rainy and windy weather has kept the team to shallow and sheltered areas for snorkeling and diving. The group snorkeled and dove several sites including the Aquarium, Jeep Reef and a drift dive at Conch Cut, where conch of all sizes could be found throughout the extensive sea grass bed.
Lisa Robertson, one of the expedition guests, has visited the park over the last 30 years. "The number of fish and colors has decreased over the years. There used to be hundreds of sea biscuits all over the place."
One fish you do see an abundance of is the beautiful, but invasive, Lionfish. It is a voracious and indiscriminate consumer of larval and juvenile indigenous marine life of the Bahamas and the Caribbean.
Dr. Earle explains the explosion to expedition participants, "We've set the table for them (lionfish). The reason they've survived here is because we've taken away the predators. Groupers eat lionfish but the groupers have been overfished. Invasive species can't set up house until you've cleared a space and a healthy system wouldn't have space."
According to Eleanor Phillips of The Nature Conservancy, there is debate regarding how these Indo-specific fish entered the Atlantic seaboard and the insular Caribbean. Some scientists believe the lionfish may have been introduced the reef through an accidental release from an aquarium in the early 1990's. Another possibility is a deliberate introduction by private aquarium owners or from foreign ship ballasts.
But it is not all lost. Robertson adds with a smile, "This is a magical place. We can already see what protection can do here at Exuma Cays Land and Sea Park, which was established in 1986. There is hope, but we have to act now to protect more of the ocean than we currently do."
***
ARCHIVES:
http://duivelsei.tumblr.com/archive - Duivelsei
http://caribbejan.tumblr.com/archive - Caribbean
http://isjanbul.tumblr.com/archive - Istanbul
http://littenseradiel.tumblr.com/archive - Littenseradiel
(Source: The Huffington Post)